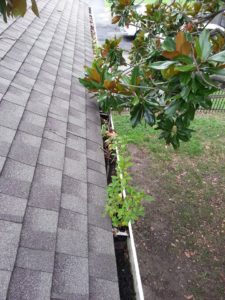 Once a roof is installed, it unfortunately becomes the most ignored and forgotten component of a building, until it fails and it begins to leak in your building or home. Having a good maintenance plan in place will help extend the life of your roof and identify problem areas before they become expensive issues.
Most roof manufacturers, such as GAF, CertainTeed, Sika Sarnafil, and Firestone, as well as roofing associations, such as the National Roofing Contractors Association and the Asphalt Roofing Manufacturers Association, all recommend having your roof inspected twice a year, once in the fall, and once in the spring.
Your roof is the first line of defense for your building from rain, wind, snow, hail, and extreme heat. Your roof system is exposed to extreme conditions that contribute to its deterioration and causing your roof to age faster. If you have never had a roof inspection, just moved in, or it has been a while since having a roof inspection, your first priority should be to have your roof inspected to find any major problems.
Here at Pro Systems, Inc., we perform a thorough visual inspection of your roof, gutter or drain system, and fascia board or drip edge. This includes:
Checking the roof surface for any holes, cuts, tears, etc.
Inspecting all roof penetrations, such as plumbing vents, to be sure they are installed correctly and not worn out
Examine fascia, drip edge, or coping metal to be sure it is secure and watertight
Look over any drains, scupper boxes, gutters and downspouts and unclogging if necessary
Seal exposed nails on shingle roofs
Noting any standing water on flat roofs and offering suggestions to fix if it is a problem
Looking around the roof for any branches or any other objects that can wear away and degrade the roof and dispose if necessary
If there are any minor problems, such as exposed nails or a small tear in membrane, we will fix it. For larger issues, that may require sufficient more time and/or material, we will notify you immediately and send you information on the problem and our quote.
Once your roof has been inspected, and all issues have been identified and fixed, be sure to have an annual maintenance program in place to keep your roof healthy. This will not only prolong the life of your roof, saving you the money of a roof replacement, but also help to insure that you don't get a leaky roof the next time it rains. Contact us at (757) 506-5019 or fill in the form to the right to have us inspect and perform a roof maintenance as soon as possible.