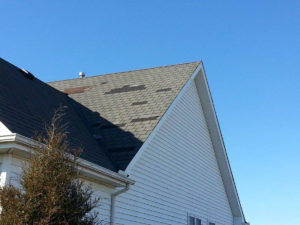 Family owned and operated, we perform all levels of exterior repair, remodeling, and installation. We offer start-to-finish solutions for every project.
Preserve the value of your home or business with a roof repair. If you notice a leak or storm damage, do not wait! Water intrusion and postponed repairs can cause more damage and be very costly. Our roofing technicians will assess your roof system and determine if you need a roof repair or full roof replacement. If your roof repair or replacement is covered by insurance, we can work directly with your insurer.
Pro Systems Inc. is respected in the Hampton Roads area because of our outstanding product lines, quality workmanship, reliability, and dedication to our work and customers. We will complete your roof repair or replacement on time and within budget.
No matter what roof system you have, it will eventually get old and deteriorate. When this happens, leaks and further damage can occur. Here at Pro Systems, Inc., we know that replacing a roof system can be very expensive and time consuming, and always strive to make sure replacing your roof is the last option.
Long after your roof system is installed, maintenance and repair services keep it strong and protect its integrity.
Pro Systems Inc. evaluates your building's roof and abutting structures to find and fix the true source of any problems and save you costly renovations down the road.
Throughout Hampton Roads, home owners, commercial developers, contractors, and property managers depend on Pro Systems Inc. We respond promptly, listen to your concerns, and fix your roof so it stays fixed.
When strong storms roll through, sometimes roof damage occur. The last thing you want is to have to wait over the weekend to get a roofer out to stop water from pouring in your home or business.
We respond quickly and effectively to stop any emergency leaks that you may have. Furthermore, we do not charge you extra for an emergency work we do.
Contact us immediately if you have emergency roof leaks.
One of the most overlooked aspects of a roof system is the importance of regular preventative maintenance. Continual roof maintenance can extend the life of and minimize the cost of the roof system.
Everyday your roof is exposed to sun, rain, heat and cold, as well as other wear and tear. Having a proactive approach to preventative roof maintenance allows you to know the condition of your roof system, therefore anticipating any future problems to plan your budget accordingly.
We offer an annual roof maintenance program where our roof technicians perform a thorough inspection of your roof system. They will list any problems or concerns and explain the state of your roof to you.
Contact us to schedule an appointment today and learn about the health of your roof.